Article


Finance




Corporate World/

Global Community
Content
1. How the Payment Card Journey Begin?
2. Ideology of using Card for Purchase
3. American Air Travel Card
4. Diners Club Card
5. First Revolving Credit Card in History
6. Imprint of Card, Old Way
7. Advanced Technology & Modern Payment Cards
1. How the Payment Card Journey Begin?
Have you ever wondered how this idea of using payment cards came into place? Who came up with this idea first that transaction can be cleared by payment card? How this journey moved from gold and silver coins to electronic funds transfer. Let's go back and have a little walk-through history.
During the period of worldwide stagnant economy of the decades of 1870s and 1880s, including the Long Depression of 1873–1879 and after the recessions of 1880s; the time was ripe for new ideas about social and economic development which might ameliorate the economic disorder.
2. Ideology of using Card for Purchase
In 1887, the ideology of using a card for purchases was described by Edward Bellamy in his most famous utopian novel, Looking Backward. This novel was one of the most commercially successful books published in the United States in 19 th century, and it especially appealed to a generation of intellectuals of the Gilded Age. In his novel Looking Backward, he used the term credit card many times, as this referred to a card for spending a citizen's dividend from the government rather than borrowing the money as loan, making it more similar to a debit card.
3. American Air Travel Card
In the middle of 19 th century, the idea was floating between different companies, also financial institutions were planning to come up with a payment card product that customers could easily use to pay with, to clear the transactions.
The air travel card debuted in 1934 when American Airlines introduced the first Air Travel Card. The card contained a unique number tied to each customer's account just like modern day credit cards. With an Air Travel Card, passengers could "buy now, and pay later" for a ticket against their credit and receive a fifteen percent discount at any of the accepting airlines. The Air Travel Card allowed travelers in the 1940s and 1950s to purchase tickets on credit from multiple different airlines.
4. Diners Club Card
Then comes charge card to cater entertainment industry. Charge Card history takes us all the way to Frank McNamara. In 1949 while having dinner at a restaurant in New York, when he was about to pay the bill, McNamara realized he had forgotten his wallet. This need must have been manifested the idea to have a card which allows you to take now and pay later. Frank McNamara ended up making a charge card company, the Diners Club, which he founded in 1950 with Ralph Schneider.
The Diners Club card used to work like a charge card, directed at the travel and entertainment markets. This idea freed the customers from carrying an excessive amount of cash. However, Diners Club card wasn't truly a credit card. Instead, it was a charge card that required the cardholder to pay and clear the entire balance off each month.
5. First Revolving Credit Card in History
Until now no one had been able to successfully establish a revolving credit card system. In 1958 Bank of America started credit card program as the BankAmericard. In which a card issued by a third-party bank was being generally accepted by a large number of merchants. Visa journey also begins in 1958, the year that Bank of America launched the first credit card program for middle-class consumers and small to medium-sized merchants in the US. This paper card is considered the first revolving credit card in history. The BankAmericard came with a $300 limit and was the first credit card to offer revolving credit.
Invention of plastic credit cards happened by American Express. In 1959, American Express began issuing plastic cards instead of paper credit cards.
In 1966 Bank of America began to license the BankAmericard program to other financial institutions. Bank of America who originally issued the Visa card as the BankAmericard, and then turned the card into a national franchise that could be issued by local banks across the US. By 1970, Bank of America gave up direct control of the BankAmericard program, forming a consortium with the other various BankAmericard issuer banks to take over its management. It was then renamed Visa in 1976.
6. Imprint of Card, Old Way
Before the internet era, merchants would simply make an imprint of the credit card and then the card companies used to do the whole process of debiting the amount from customers account and crediting it to merchants account, after cutting off the interest fee. At that time, most of this used to be done manually.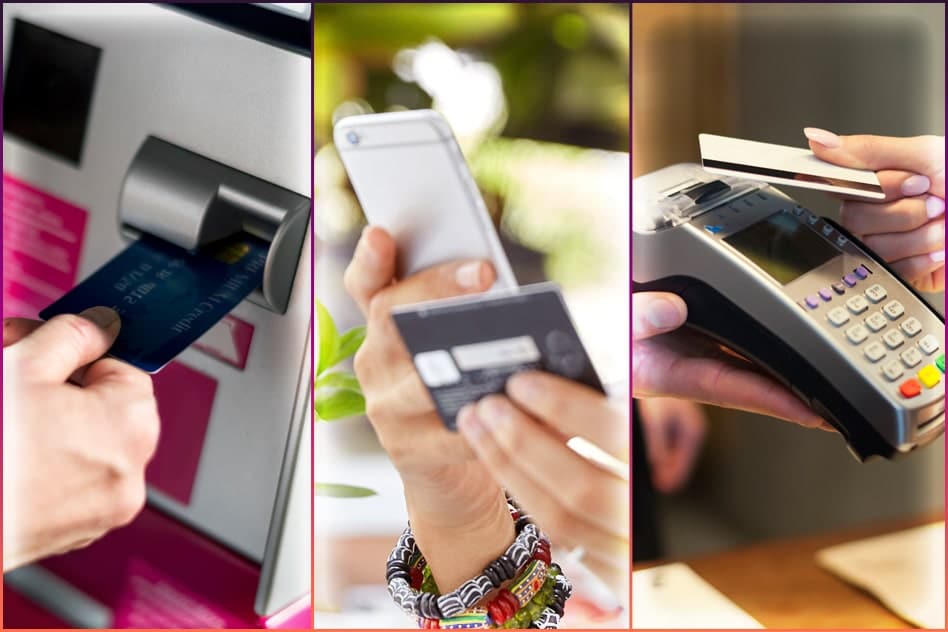 7. Advanced Technology & Modern Payment Cards
Advancement of technology in banking industry and financial institutions took it all to another level. To move money via payment cards, mobile and from your checking to your savings account, Electronic Fund Transfer (EFT) technology is being used. EFTs move money across faster and in real time. When you need to make a payment these days, you're often using EFT technology to make those payments happen.
Back in 1978-1979 the U.S. government implemented the Electronic Fund Transfer Act (EFTA), to establish the rights and liabilities of consumers as well as the responsibilities of all involved participants in electronic funds transfer activities. Visa is one of the most renowned companies in the world which facilitates EFT to financial institutions throughout the world with Visa-branded payment products such as credit card, debit card and prepaid cards.
Secure chip installed modern payment cards and modern payment methods have switched the whole game; making the transaction process way more secure and convenient on both domestic and international levels. Advance technology in payment cards took it all to the next level of contactless payments. Undoubtedly, contactless payment is a secure, modern and fastest way to clear a transaction via handheld devices and by simply taping the payment card on Point of Sale (POS) terminals.
Let see which new technology we will have next in payment cards!
In this modern world where technology has made a huge difference in today's life; the platform of RemitAnywhere is here to provide technology solution to money service businesses around the globe. We use robust financial technology solution that brings remittance to the fingertip of your customer; reducing risk and maintaining privacy. RemitAnywhere is staying one step ahead by offering a reliable technology solution for all your money transfer business needs.
Learn how we can help you: http://remitanywhere.com/
For more information, advice and support, contact sales@remitanywhere.com or call 646-722-9500. RemitAnywhere would be delighted to help grow your business.
Thank you for reading!
Written by
H. A. Tepha
This publication is not intended to cover every aspect of the topics with which it deals. Seek professional advice if you need any financial assistance. This publication is provided for general information purposes only.